Students! Did you do your profile survey? Check your email for a chance to win a £20 voucher and tell us what you think now!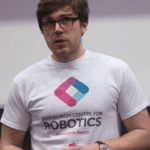 I have heard about I'm an Engineer from a colleague of mine, who participated a while ago and she had a lot of positive things to tell about her experience. I have decided to give it a shot as I am very keen on public engagement especially when school kids are involved and are eager to learn new things.
Public engagement can be a bit frustrating sometimes when you are a part of a bigger thing, like a festival. People come over without a specific interest and it sometimes feels like you are pushing your beliefs too much. I was surprised about my experience with the I'm an Engineer initiative. The theme is very well-defined and students willingly join the chats and ask the engineers questions that really bother them. And boy some of those questions are thought-provoking. One particular set of reoccurring questions got me thinking and I will try to take it further with the school of the veterinary studies in Edinburgh.
Overall, the competition for me was not about the winning and I was very surprised to learn that I was the one students voted the most for. On one hand, I enjoyed very much chatting and telling how amazing and entertaining engineering can be and that it is not as difficult as many believe it is. On the other hand, dialogues like that make me reshuffle and evaluate my own thoughts and beliefs.
I am very thankful to the students for engaging in conversations about engineering at many different levels and I am thankful to the organisers for making this possible. I can only hope that my messages got through to the students and that our chats will be fruitful for their futures. They will definitely be on my mind for a while. Thank you.
Engineers! If you'd like the chance to win funding for your own public engagement work, apply for the next I'm an Engineer, Get me out of here: imanengineer.org.uk/engineer-apply