Profile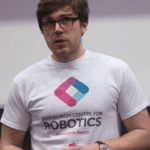 Boris Mocialov
Curriculum Vitae
Education:

Norwegian University of Science and Technology, Aalborg university, Heriot-Watt University, University of Edinburgh

Qualifications:

BSc in Computer Science, MSc in Software Engineering, MRes in Robotics and Autonomous Systems, Doing PhD in Robotics and Autonomous Systems

Work History:

I have worked as a free-lancer after my BSc in Gas market prediction, Oil platform monitoring systems, Home automation, Fish industries management systems, Continuous integration automation

Current Job:

PhD student

Employer:
About Me

I love robots big and small !!!

Read more

I live in Edinburgh and make interaction between dumb machine and humans possible

My Work

I teach machines to understand sign languages that are used by the deaf people. Also, I am building a robot to teach kids that robotics is very simple

Read more

I use machine learning (i.e. deep learning) techniques to process visual sign languages and generate text in English. Also, I am building a robot out of 3D-printed parts

My hobby is building a butler robot out of 3D printed parts. The robot is used at the university and at the public events to teach general public about how simple robots are

My Typical Day: Every day must begin with a cup of tea and a biscuit

Read more

I mostly train my machine learning models on pre-recorded sign language data.

From time to time I go to the workshop and build my own robot

What I'd do with the money

I will finish building the butler robot and give it to the university students to do amazing things with it

Read more

I will complete the butler robot and make more of them to teach general public about robotics during the science festivals
My Interview

How would you describe yourself in 3 words?

ambitious, persistent, geek

What's the best thing you've done in your career?

Understanding many things

What or who inspired you to follow your career?

My close friend

What was your favourite subject at school?

Lunch time

What did you want to be after you left school?

Astronaut, obviously

Were you ever in trouble at school?

Like, every week

If you weren't doing this job, what would you choose instead?

Artist

Who is your favourite singer or band?

Ella Fitzgerald

What's your favourite food?

Spicy Thai food

What is the most fun thing you've done?

Showing robots to children at the CarFest 2017

If you had 3 wishes for yourself what would they be? - be honest!

World piece, unlimited ice-cream for everyone, more ice cream

Tell us a joke.

knock, knock! Who's there? Doctor. Doctor who? That's right!
My profile link:
https://artificialj18.imanengineer.org.uk/profile/borismocialov/
---
---
---